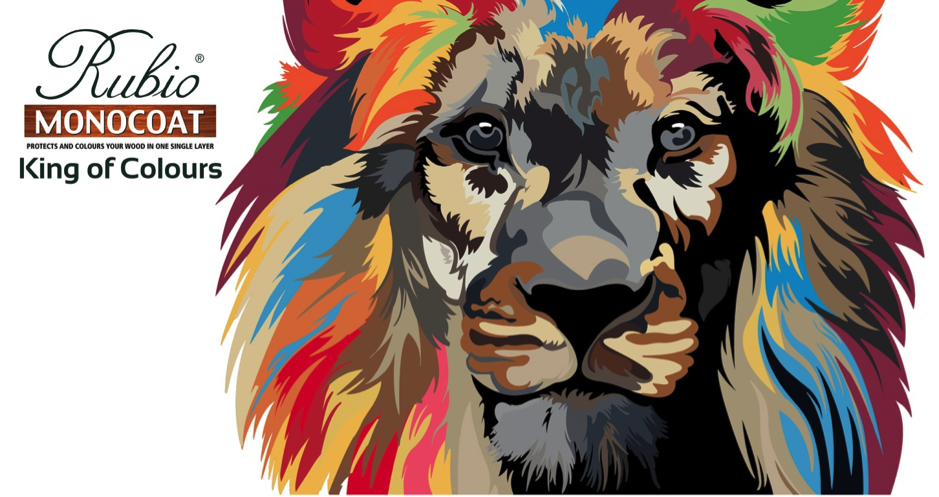 Distributed by FinFloor, Rubio Monocoat protects and colours your wood in one single layer.
Rubio Monocoat (RMC) are global industry leaders in supplying all-natural oils, which have been certified by the EU as 0% VOC (completely non-toxic), and Toy Safe Certified, unlike many other solvent based stains/finishes in the marketplace. This means RMC can be used safely on all food surfaces.
The King of Colours
The RMC Interior colour range consists of 40 colours and 21 colours for exterior application. With the combination of an additional selection of water-based pre-colour stains, customers can custom make their own unique colours (more than 1000 colour combinations) to suit their specific requirements. This unique attribute has earned Rubio Monocoat the reputation of "The King of Colours".
Rubio Monocoat - Wood stain colour chart
Rubio - 2017 colour trends
The Brand
The Rubio Monocoat (RMC) all-natural oil brand was launched in 2005 by its parent company, Muylle-Facon (MF), which is head quartered in Belgium and manufactured in their new hi-tech, automated plant. MF has been developing and distributing wood protection products for over 100 years, and are market leaders in product development and innovation. Now available in more than 76 countries worldwide, RMC is one of the fastest growing brands in the wood treatment and protection sector.
Having established a solid customer base in South Africa consisting of leading architects, designers, shop fitters, furniture makers, specialists of wooden products, the RMC comprehensive product range is available through dealers and resellers across the country. This has positioned RMC as the preferred brand of choice in wood treatment.
Our Solution Offering
The all-natural oil wood finish, seals, colours and protects in One Single Layer (Monocoat) application. Ideal for both interior and exterior applications (UV and anti-fungal protection), the product range contains 0% VOCs (Volatile Organic Compounds) meaning it is completely non-toxic and environmentally friendly. The oil finishes are easy to apply and require minimal maintenance, offering exceptional durability.
Application of Rubio MonoCoat
The products are applied to any prepared wood with a single coating, which reveals and complements the natural grain and patina of the wood. Should additional protection be required, RMC supplies a top-coat varnish for the high-traffic areas. The next generation unique Molecular ing Technology ensures a durable and affordable solution that does not form a film and thus ideal for the harsh weather conditions in Africa (it is water and heat resistant).
This fast curing solution ensures no overlaps can be formed and colour consistency throughout. Due to this revolutionary technology, users can also easily maintain or repair surfaces, without having to redo the entire area. This ground-breaking and innovative bonding technology provides a very high spread rate (average spread rate 50 m² per litre), which makes it a highly affordable product with only one layer required. The single layer application also reduces labour costs.
Coverage
The RMC Oil Plus 2 C is available in 40 different colours. The wood is coloured and protected in one single layer without compromising the natural look and feel. The colours can also be mixed.
1 x 350ml Duo Can (A+B) RMC Oil plus 2C covers around +/-30sqm/li>
1 x 1.3L Duo Can (A+B) RMC Oil plus 2C covers around +/-50sqm