Finfloor is excited to introduce the Diamond luxury tile. This innovative product uses the best of vinyl technology to create an easy to install, durable and long-lasting product perfectly suited to contractors and developers working on new establishments or wanting to renovate existing spaces. These tiles are slip-resistant, surpassing requirements in international testing as well as acoustic testing for footfall and impact sound disbursement, and therefore have superb acoustic qualities.
The Diamond luxury tile boasts the same unique properties as the Diamond Core SPC floorboards including being highly stable across a range of temperatures, making it suitable to any climate with a range of applications across the home, office and even hotels. Diamond Tiles are fade-resistant and therefore suitable for exposure to the African sun.
Diamond Tiles are 100% waterproof so, unlike other types of floor coverings, are perfect for use in wet areas such as bathrooms and kitchens. The high-density calcium carbonate / limestone-based composite core makes this product extremely durable and hard-wearing and is a perfect fit for commercial use and comes with a 10-year commercial warranty.
The easy click-lock installation makes the flooring quick to install without the hassle and mess of grouting, and unlike ceramic tiles, vinyl tiles, if damaged, can be removed and replaced easily without the normal problems experienced in the past. Since it is a floating floor, little to no sub-floor preparation is required plus it has a large floor coverage +/- 200m² before the required expansion gap profile is required which makes it an excellent option for developers wanting to quickly improve the aesthetics of a space.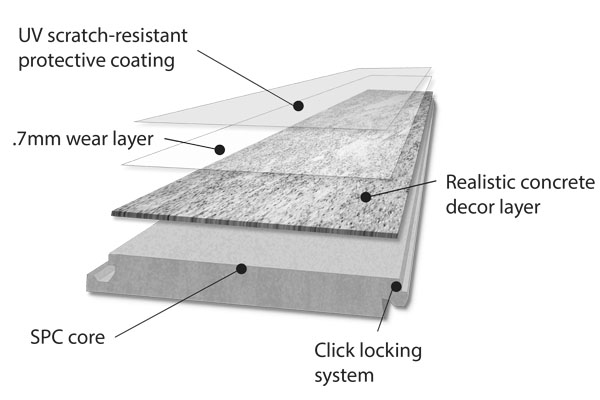 Diamond Core stone plastic composite tiles are textured with a coral surface and a 4-sided micro-bevel finish and resemble a classic granite or marble tile look. They are fit for both heavy residential use and general commercial use, with a 30-year warranty on the residential use and 10-year warranty on commercial applications.
The tiles come in 3 colours: Moon Stone, Tourmaline, Grey Pearl with the following dimensions: 900 x 450 x 6 mm. They have a 0.7mm wear layer and 1.62 square meters are covered per box. Made from 100% virgin materials, Diamond Core SPC products are healthy and eco-friendly and exhibit no formaldehyde emissions in testing.