As a homeowner, you want to design the most comfortable and stylish spaces possible, while ensuring that your house retains, and grows in value as an asset. Utilising superior product ranges will guarantee that your home is both beautiful and bankable at the end of the day. There are many reasons why Black Forest laminate is the laminate floor of choice for high end living spaces, carry on reading to find out why.
Black Forest laminated flooring is tried and tested in South Africa.
Black Forest is manufactured for South African weather conditions, so whether you live in Kwa Zulu Natal, the Cape or Gauteng, Black Forest will endure in its functionality and value for money. Unlike standard vinyl, which doesn't perform well in direct sunlight, Black Forest laminate can be exposed to direct sunlight without a problem, making it the perfect choice for South African weather conditions.
Black Forest laminates are extremely water resistant.
Unlike old-school laminates which are traditionally associated with being water-averse and peeling and cracking in wet conditions, Black Forest is manufactured with a wax impregnated core board that simply shrugs off water. In a swell test which involves total immersion for 24 hours at 20 degrees Celsius, Black Forest only swells 8%, far below the industry mean of 18%, making this laminate one of the most moisture resistant laminate floors on the local market. When left to dry after total immersion, Black Forest returns back to 1-2% of its original form.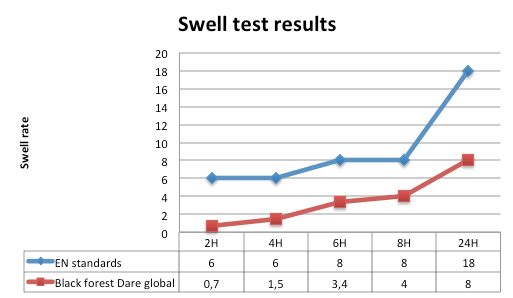 The underlying reason for this exceptional water resistance is the wax impregnated core board used in the Black Forest flooring. The wood pulp used to make the core board is mixed with wax, which is known for its water-resistant qualities. Black Forest also boasts a greater board density of 880-890 kg/m3, meaning the laminates are impact resistant and extremely durable.
Black Forest planks have a waxed locking system.
Black Forest planks are manufactured with the German patented Valinge locking system, a high performing, engineered tongue and groove system which is easy to install and very quiet. The waxed locking system ensures a reduction in friction and creaking, meaning quieter footfall. The waxed edge of the tongue and groove system mean that water will not be able to penetrate the surface of the floor, further improving the performance under wet conditions.
The highly anti-abrasive protective overlay seals over a melamine impregnated decorative film. The decorative film displays the natural wood pattern and is available in a range of colours to suit your home. Black Forest falls in line with the international and European flooring trends 'Scandinavian Style', 'Bleached and blanched' and 'Vintage'.
Black Forest can be installed across your whole house including in the bathroom and kitchen (traditionally not a place for a laminate owing to the water affinity of the product).You can lay 300 square meters without expansion profiles, creating a continuous look throughout your home with no distracting repeat. Black Forest planks are still the longest and the widest on the South African market, with the planks measuring 220 x 239 x 12mm. The ultra-long, ultra-wide and thick boards make your space look bigger, more contemporary, authentic and rustic.
Black Forest is guaranteed.
Like all Finfloor flooring, Black Forest is SAWLFA accredited and has a 25-year residential guarantee – Black Forest floors have yet been replaced due to water damage or defect in the product. They also have a 5-year commercial guarantee, so if you do decide to install Black Forest in your office, which generally has higher foot traffic, you have the peace of mind that your product is protected from defect for a full five years. Owing to the wax impregnation of the boards, termites will not eat the wood, and there is a lifetime guarantee against termites.
Finding the right flooring for your high-end living spaces requires a lot of time and research. Some of the most important factors impacting your decision at the end of the day are cost and convenience, but you also wanting to install flooring that is both safe as well as stylish, hard-wearing and long-lasting, creating real value in the long run.
Superior Product Ranges – Black Forest vs Standard Vinyl vs Standard laminates