We have been successfully importing wood, laminate and vinyl flooring into South Africa for the past 25 years. As one the first flooring importers to try and test "Click" vinyl flooring in SA with our Trio-loc vinyl tile. We have since launched and tested 4 various vinyl ranges and are confident to comfortably add 2 new glue down vinyl ranges, Aurora and Galaxy, which are a fit for South African conditions to our product offering.
What is glue down vinyl?
Also known as dry-back vinyl, glue down vinyl makes use of a glue down installation method. An adhesive is used to adhere your dryback luxury vinyl flooring to its base. Using an adhesive creates dimensional stability that ensures the flooring maintains its natural characteristics.
Benefits of glue down vinyl floors
Vinyl is a popular choice because it holds up in both dry and wet spaces, so it can be used continuously from a living room into a kitchen or from a bedroom into a bathroom. Running continuous flooring creates one seamless space, which assists in making a space appear larger and more open. Vinyl offers a range of benefits including:
Durability – Vinyl floors are scratch and stain resistant, making them strong enough to withstand most heavy residential foot fall and easy to clean and maintain.

The commercial Galaxy range combines the latest technology and design to deliver a glue-down vinyl product that features a double UV-coat, plus an anti-bacterial coating within the 0.55mm ceramic bead wear layer.

100% Waterproof – Both Aurora and Galaxy are 100% water-proof from topical water (water spilt on the surface of the floor), as well as the plank being waterproof if fully submerged in water. However moisture underneath it can cause problems. Moisture weakens glue bonds which causes the edges to lift and bubbles to form in the middle of the panels. It also deteriorates and softens the vinyl and promotes the growth of mould. To prevent this problem from occurring we strongly recommend that a painted vapour barrier be applied to the screed on all ground floor installations.
Noise – Vinyl planks feature multiple layers and are a relatively quiet choice for any room, especially when compared to tile or hardwood floors.
Cost – Glue down vinyl flooring require professional installation and excellent sub floor preparation, even with taking this into account they will be cheaper the the solid wood floors.
Repairs – If a section of the floor becomes damaged, it can be replaced. Make sure to save a box of planks for making repairs or adjustments down the line.
Low maintenance – With a durable ceramic bead wear layer all you need is the occasional vacuum and damp mop to keep your floor looking fabulous.
Family and pet friendly – Manufactured from virgin material, free from Phthalate, heavy metal and formaldehyde, creates a safe space for your family.
Wide variety of wood finishes – Selected from natural looking wood samples and the current trending European pallette. Aurora and Galaxy vinyl floors provide all the style and elegance of hardwood while remaining durable enough to use from the front door straight through to the bathrooms.
In closing when selecting vinyl flooring consider the actual construction of the product and select a design that is suitable for the way the room will be used. For the best results, select a product designed for commercial use and make it the foundation of your room for many years to come.
Aurora and Galaxy Side By SIde comparisons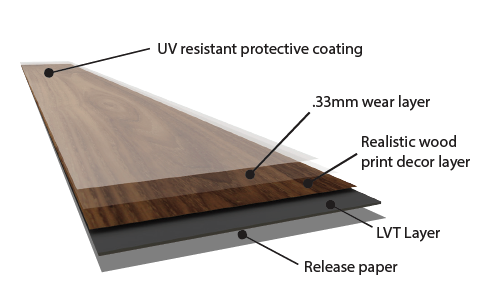 Aurora
Plank width: Ultra wide 235mm wide
Plank length: 1227mm
Thickness: 2mm
Wear-layer: 0.33mm
Made from virgin material
Antique wood finish
4-sided Micro-bevel
Glue-down installation
100% waterproof
100% Phthalate free
UV and Fade resistant
Warranty: 25 year residential / 5 year commercial
Download Aurora Technical Specifications
Colours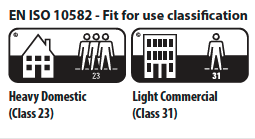 Certification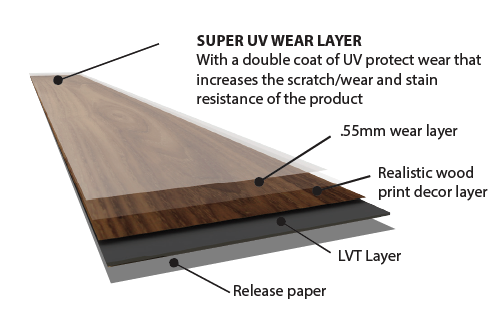 Galaxy
Plank width: Ultra wide 235mm
Plank length: 1227mm
Thickness: 2.5mm
Wear-layer: 0.55mm
Made from virgin material
Antique wood finish
4-sided Micro-bevel
Glue-down installation
100% waterproof
100% Phthalate free
SUPER UV coating: scratch and fade resistant
Warranty: 30 year residential / 5 year commercial
Download Galaxy Technical Specifications
Colours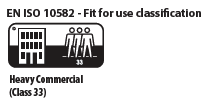 Certification

Glue down Installation and maintenance guidelines.
Do not expose to direct sunlight, Cover windows,
Always adhere to the manufacturers installation parameters and read the installation instructions
When cleaning we recommend the use of non-abrasive detergents and a microfiber mop. Avoid excess exposure to water.