Today we opened a new warehouse in Cape Town.
The new warehouse has four full-time staff – it is being headed up by Gary Schiel, the office and warehouse is managed by Paul Diedericks and assisted by George Chibanda while Dustin McGee continues in the position of the sales rep. The 390 m2 new warehouse can be located on Industria Road in Brackenfell, Cape Town.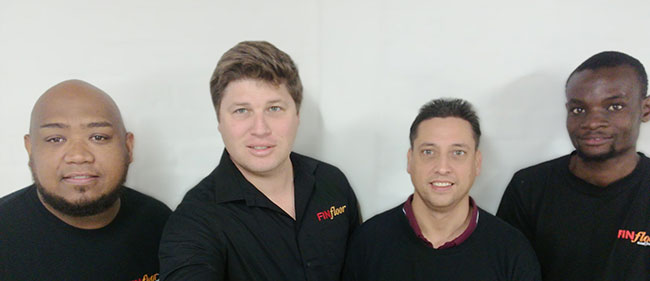 We now offer our Cape Town customers easily accessible stock and reduced delivery times, and stocks the full complement of Finfloor products including authentic Herringbone flooring, Black Forest laminate, Diamond Core Vinyl and FinOAK hardwood flooring. We've proudly increased our national footprint to include three main City Centre distribution hubs that offer stock on hand, boast decreased delivery times and keep availability of the Finfloor products.
Company director, Chris Holden, says that "This venture is another step forward in the development and growth of Finfloor, showing our commitment to our clients, staff and consumer in general. After all, Finfloor is the original market leaders since 1996 and we needed to open in Cape Town to show our total commitment to the trade and consumer."
The Finfloor Executive team has made a decisive step to becoming a truly national distributor by establishing a strong foothold within the Western Cape. The new warehouse allows the business to be better equipped to service a rapidly growing region. The development also shows a firm commitment to Finfloor retailers by allowing them increased access to product lines.
We hope to achieve trust and mutual commitment from our retail partners, and want customers to understand that we are in the Western Cape to stay. By shortening lead times, reducing transport costs and being more client facing, Capetonian clients can now access the total Finfloor package that is enjoyed by other regions, for example, practical and product training and exposure to innovative ideas and new technology in the market. Western Cape customers can also be treated to better after-sales service owing to the one-on-one relationships afforded by improved proximity and communication.
The impact of the new warehouse is huge for the business: turnaround times can be reduced by half, to one-third, and urgent orders can be satisfied within the same working day. The bulk of the stock is customised to the taste and lifestyle of customers the Western Cape region.
Holden also notes that Finfloor looks forward to increasing the businesses footprint in this area with more innovative products and developments, with an uncompromising attitude towards service delivery which has been the cornerstone of Finfloor's success.