Rent To Own Flooring South Africa
Finfloor is excited to announce a distribution partnership with Designafloors. DesignaFloors have revolutionised the flooring game in a way which allows people who rent apartments to have the unique opportunity to own their own floors. Allowing them to match their furniture and design with their flooring. 
DesignaFloors and Finfloor have provided an exclusive range of laminate flooring to be used in this unique flooring opportunity. 
As a renter, you may be asking the question. What if I move homes? DesignaFloors will uplift and refit your floor in your new space for a small call out fee.
The next question you may ask. What happens if my new place is bigger? That's where we come in. At FInfloor we have agreed to continue the range of Bella laminate flooring so that you can always get a floor to match what you currently have installed. If you need additional flooring for your new bigger home, you will be able to get it.
Interested in our rent to own flooring model? Follow the link to find out more
How Does Rent To Own Flooring Work?
Rather than having to pay for your flooring upfront. DesignaFloors now gives you the unique experience of purchasing your flooring on credit allowing for easy and affordable monthly repayments. 
Rent to own is not limited to individuals that are renting their property. This flooring model is available to the homeowner as well. Easy monthly instalments should be accessible to everyone.
Once you have found the laminate or vinyl flooring of your dreams on DefignaFloors rent to own page you can simply add in the length and width of the area you would like your new floor to cover. From there you can add to the cart. On the cart page, you can add the fitment of the flooring by typing in the length and width of the area you wish to cover. 
At this point, you can now proceed to the checkout page, fill in your shipping details and select Payfast as your payment gateway for a secure transaction. You will then be given the option to use Mobicred as your payment method. 
Your order will be placed and processing will begin to get your new floor installed for you.
FinFloor Laminate Rent To Own Flooring
FinFloor has put together a range of laminate flooring dedicated to the rent to own model. This line of laminate flooring comes with a 15-year heavy domestic use / 5-year moderate commercial warranty.
The laminate plank size is 1200 ✕ 193 ✕ 8mm, square edge with a thickness swelling test of less than 18%.
This line of laminate flooring has an antibacterial layer, this protects you and your family against germs and bacteria that could be brought into your home. For more information on bacteria that may live on your floors follow this link.
The laminate flooring that is supplied for rent to own is our Bella AGT range. This range of laminate flooring is inspired by the allure of flowers. With a wide range of beautiful designs named after the colours of the flora that created in inspiration of this exquisite laminate range.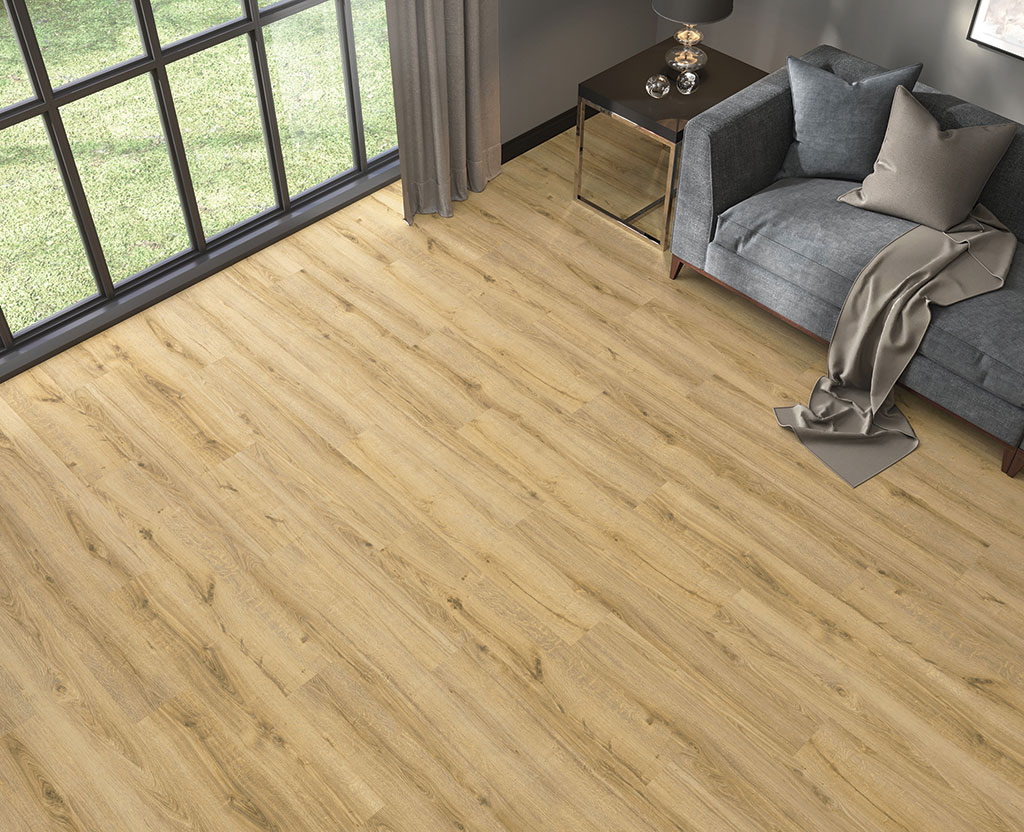 Bella laminate flooring is budget-friendly with the look and feel of wood laminate.
Planks size: 1200 x 193 x 8mm

Fit for use: AC3/W31 – Heavy domestic/moderate commercial grade

8mm HDF core with an average board density >850kg/m3

low <18% swell rate

EN13329 compliant

Timberland finish, square edge

L2C locking system

Warranty: 15 years heavy domestic use/5 years moderate commercial use
Bella laminate floors are manufactured with 4 different layers at the bottom of the laminae plank you will find the balancing film, above that is the HDF Core, with paraffin waxed tongue, on top of the HDF core is the decor layer and last is the overlay.
All these different layers that make up the Bella laminate range add to the value of the floor making it:
Highly scratch-resistant

Moisture resistant

Impact-resistant

AGT factory produced
Scratch-Resistant Laminate Floors
In the Bella range, the overlay is designed to protect the natural wood grain making it abrasion resistant allowing this floor to withstand the harshest household traffic thus earning the reward of the 15-year heavy domestic warranty.
Moisture Resistant Laminate Floors
Due to the paraffin waxed tongue impregnated into the edge of the laminate making the seams of the laminate floor naturally repel moisture as well as reducing any squeaking that may occur. 
Impact-Resistant Laminate Planks
Perfect for busy homes with big families that create high foot traffic. Bella laminate floor range is designed with a thick and dense core board that makes this range strong, rigid and impact resistant.
AGT Factory Produced Quality Laminate Flooring
AGT is an internationally recognised leader in producing wood laminate flooring. Their manufacturing standards comply with the international standards of trading for wood laminate floors. For more information on AGT and the three reasons why we chose them follow the link.
Final Thoughts | Rent To Own Flooring South Africa
Rent to own is a unique opportunity for both renters and homeowners to get the floor of their dreams. But the price of good quality flooring can get expensive very quickly. 
This is why Designafloors and Finfloors have teamed up to make quality laminate flooring affordable through small monthly instalments to get your dream home.
The beauty of this model is that you keep the floor so if you move, Designafloors will lift your floor and install it in your new home. Allowing you to have a design throughout your home, from the walls to the floors and your furniture.