AGT products have been so well received into the South African market, and with 3 increasing ranges to choose from, we have no doubt the sales will continue to soar. We continue to be committed to AGT and their products offering and want to share with you the scale of their world class manufacturing facilities, so with this in mind we are inviting 6 AGT ambassadors on our next factory visit to Türkiye in April 2024.
How do you qualify?
In short SELL, SELL, SELL AGT products!
The top Performing client with the most AGT product sales and the client with the greatest AGT growth over the next 6 months will be whisked away to join us in Türkiye.
But you don't think you are our biggest client? Don't lie back, SELL, SELL ,SELL AGT boxes,
Because over the next 4 months leading up to the final winner's announcement we will be running 4 lucky draw competitions where each month our top 40 clients will be entered into a lucky draw, and for every box of AGT you sell, you will receive 1 ticket into the draw. At the end of the month, we will draw a winner from the ticket entries.
You stand a 1 in 40 chance in winning a trip to Türkiye and the more tickets you enter the greater your chances.
 
We will alert you via mail to the number of tickets you have entered in the draw each month and on the 1st of August we will announce the first AGT ambassador on our website, as well as display the top 10 leaderboard of clients in the running for the race to Türkiye.
 
Can I win more than once?
Sure if you are one of our top 40 clients for any month and sold qualifying AGT boxes you can win, and winning one of the lucky draw competitions will not exclude you from the final 'Race to Türkiye' the 2 Top spots.
 
Prizes and winner: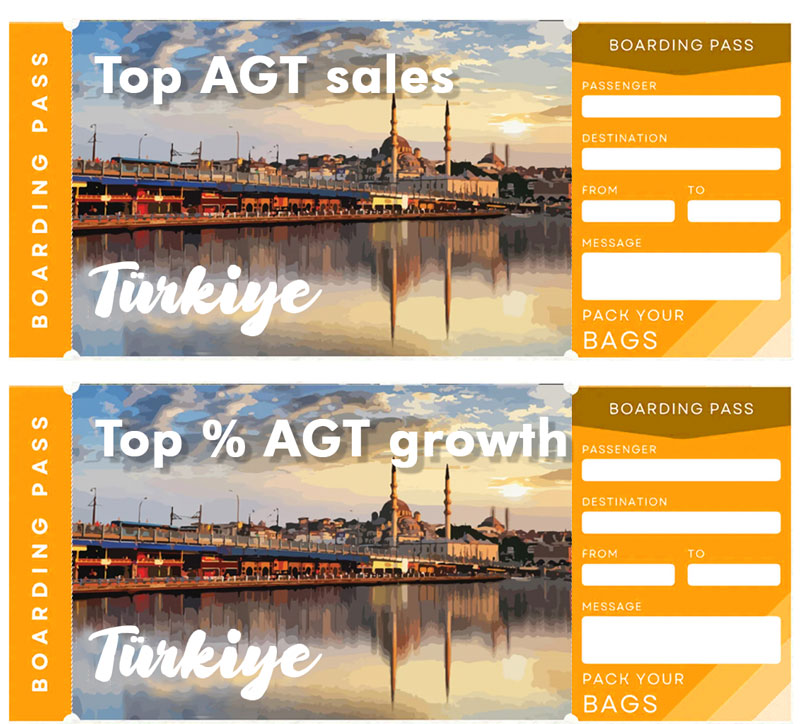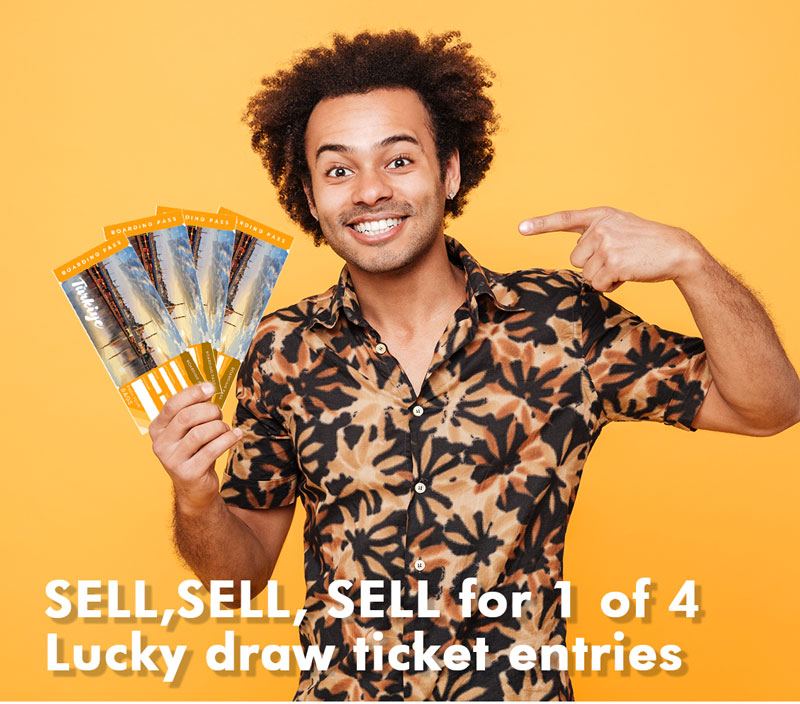 TOP SALES Winner
1 Ticket for the most *Qualifying AGT product sales over the 6 months June – November 2023, will be Announced 7 December 2023
TOP % INCREASE IN SALES Winner
1 Ticket for the client with the greatest % increase of AGT sales over from June – December 2023, will be announced on 7 January 2024
IN-IT-TO-WIN-IT
TOP 40 lucky draw winner
All you need to do is sell AGT to be in the draw. Each month our top 40 clients, AGT box sales will automatically be put into a lucky draw, over the next 4 months, 4 Lucky draw entries will be selected, 1 for each month in July, August, September, October
1 entry ticket for every box of AGT product sold at the listed price.
The Prize is valued at R40 000 per ticket
3 night – 4 day trip to Türkiye
İncludes flights from South Africa – Istanbul – Antalya
1 night in Istanbul
Istanbul sightseeing tour
2 nights in Antalya
AGT factory visit
AGT dinner
Antalya cultural day
Anticipated travel dates are towards the end of April 2024
Competition leaderboard announcements
Next Lucky draw winner
Will be announced on the 7th November
View top 5 sellers
See the current leader board with the top 5 clients in the running for a ticket to Türkiye
Most Growth
See the current leaderboard of the top 5 clients with the most growth in the running for a ticket to Türkiye
Competition Terms and Conditions:
Eligibility: The competition is open to individuals aged 18 years or older, unless otherwise stated. Employees of FINfloor their immediate family members, and anyone else connected to FINfloor SA or the organization of the competition are not eligible to participate. The prize is not transferable, and only 1 winner will be taken per client. If you cannot make the dates, you can, with FINfloor SA's consent send a company member in your place. You must be in possession of a valid passport for the time of travel to qualify. Entry: Participants may enter the competition by selling *Qualifying AGT products at our listed price, no entries for discounted boxes will qualify Winner Selection: The winner(s) will be selected by FINfloor SA at random from all eligible entries. The winner(s) will be notified by email or phone one week after the competition closing date. (The last day of each month), If the winner(s) cannot be contacted, another winner may be selected. Prize: The prize(s) are non-transferable and may not be exchanged for cash or any other alternatives, unless specified. Any additional costs, such as personal expenses, spending money and alcohol beverages, not explicitly mentioned as part of the prize will be the responsibility of the winner. Publicity: By entering the competition, participants agree to have their name, photograph, and any other relevant details used for promotional purposes by FINfloor SA, both online and offline. Data Protection: Personal information collected during the competition will be used solely for the purpose of administering the competition, unless participants have opted in to receive marketing communications. Disqualification: FINfloor SA reserves the right to disqualify any participant found to be in breach of these terms and conditions or engaging in any fraudulent, corrupt, unlawful or unacceptable activities, determined solely in the discretion of FINfloor SA. Amendments and Termination: FINfloor SA reserves the right to modify, suspend, or terminate the competition at any time, within its sole discretion, without prior notice and without liability. FINfloor SA's decision is final and binding and no correspondence will be entered into regarding the final decision. Liability: If you should win but cannot attend you have,  30 days from date of being informed of you being chosen as a winner to let us know, failing which you will be held liable for the cost of prize valued at R40 000.
Full competition Terms and Conditions available on request.