Let's take a look at what flooring trends will remain and last, whilst preparing to tackle the new styles predictions for 2022. Flooring is an investment and you want to make a flooring choice that will last and withstand the ever changing interior trends.
Vinyl flooring in 2022
With today's technology advancement vinyl flooring looks increasingly more natural. These well reproduced natural wood and stone patterns involve very little maintenance and upkeep. This easy to clean flooring will remain gaining in popularity. All the beauty with very little extra work.
Here are our Top vinyl trends for 2022
Rigid SPC Waterproof vinyl – 100% water-proof from topical moisture and even more durable than WPC, Stone plastic composite (SPC) vinyl flooring with improved technology, durability and locking joint strength will withstand any of the challenges 2022 has in store for it.
Vinyl sheet flooring – New to us but not new to the markets, affordable glue down vinyl flooring features top notch decorative patterns at a more affordable rate
Wood-look vinyl is classic and remains ever popular. with realistic high-end visuals and embossed textures this classic look flooring is here to stay!
Vinyl flooring is durable, warm, resilient, and stylish. This is the go-to flooring option for many people, and it will remain that way for decades to come.
View our Vinyl product ranges in the latest wood look colour palette:
Laminate flooring in 2022
Imitating solid hardwood flooring, laminate flooring is used extensively in both residential and commercial spaces. Laminate flooring is made from wood pulp with a realistic reproduced decor layer that is attractive, easy to maintain and durable at a much lower price point than solid wood flooring.
These are our top 2022 laminate flooring trends
Water-resistant and waterproof laminate flooring – Water resistant Black Forest laminate flooring range has waxed joints and a wax impregnated core, combining ultimate functionality with a whole lot of style.
Wide and Large planks –  The larger planks of our Black Forest range and wider format plank in the Supreme range make the the floor seem less busy and make any room feel roomier.
High variation wood-look laminate – The 3D EIR embossing in register of the AGT Effect range mimic the rustic feel and style of real wood. This will remain a popular flooring choice throughout this year.
Light wood-look laminate – Light and airy colours of blonde and honey laminate make spaces feel warmer, larger and more open. These natural wood tones of Sun bleached Oak, Maplewood Mist and Jukskei will remain on the top of our sales chart
Laminate flooring is low maintenance, affordable, stylish, durable and lots of homeowners will continue to choose laminate flooring for their homes.
Engineered hardwood flooring in 2022
Engineered wood flooring is manufactured with a real wood veneer surface on top of a man made backing board. Providing you with the look of real wood with increased durability.
Here are our top wood flooring trends for 2022
Prefinished flooring – Installing prefinished flooring saves time and money. Choose from one of the 6 prefinished Finoak flooring ranges.
Light wood – The light wood colours of Tsitsikama, Winterberg and Cederberg remain ever popular for people who want their homes to feel lighter and brighter
Hand scraped engineered wood flooring – Features the long ingrained scrapes onto the wood surface, making each plank appear hand crafted
lightly brushed engineered hardwood flooring shows subtle intentional wire scratches on to the surface making it appear to be exposed while highlighting the grain and the plank.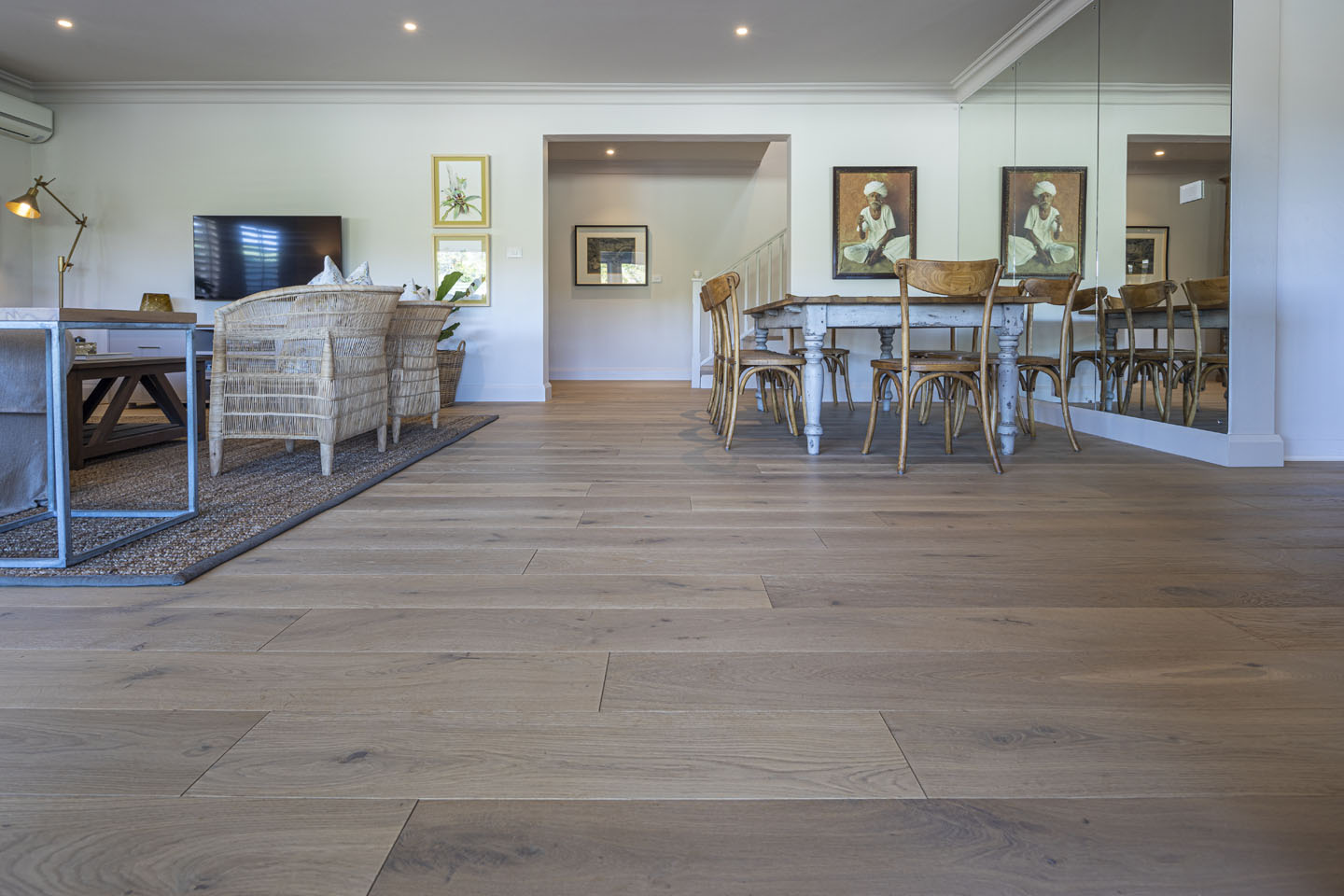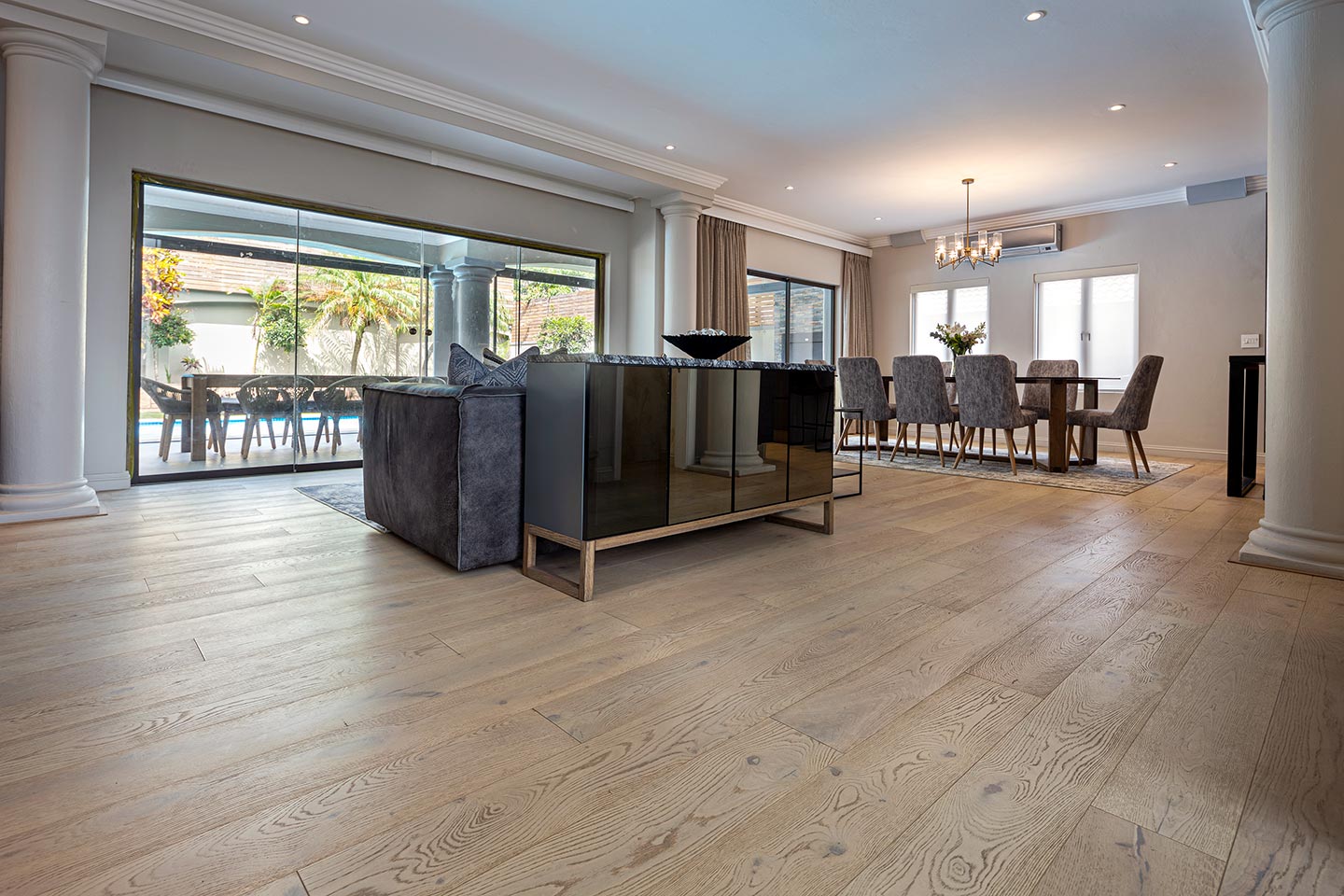 Engineered flooring will become ever increasingly popular in the next few years while Designers and Architects emphasize and value the authentic look and quality of materials.
2022 Trending floor colours
In 2022 you will see lots of light, warm blondes and whites with some cool grays still going strong.
Grey has quickly become a popular trend not just for flooring but also for kitchens and homes in general. Cool and contemporary greys offer you a neutral backdrop for decorating with any other colour.
Blonde light floors feel airy and you will see a huge resurgence of blonde wood and wood-look floors. LIght and timeless –  ideal for an updated farm style.
White floors from sparkling marble to pure white or beachy white washed light floors give your home a relaxed beachy to an upscaled contemporary feel.
2022 Treding flooring patterns and layouts
Consistent over the past few years. LARGE planks, fun patterns and layouts are all still in fashion.
Wide planks –  making rooms appear larger, more open and less busy.
Herringbone – popular in kitchens and along entrances create a contemporary zig-zag pattern. Pretty and unique.
Creative tile transitions – super popular and here to stay, but if you looking for resale to a wealthier target market, consider engineered wood flooring instead.
In short there is a lot of technology in the flooring industry right now and many different, and unique trends that will stick around for years to come.
But if you want something that is HOT and TRENDING and will last for the long haul, we recommend going for blonde or grey large wood look planks.