Installing your Vinyl Floor: Practical Tips
To validate your warranty, you need to complete the form on the warranty card and mail it back within 14 days of your installation. There are two parts, the first should be completed by the dealer with their details, it will also speak to allowable floor coverage and moisture readings. In the second part, you will accept the warranty conditions, maintenance and care instructions. You will send the completed form back to Finfloor and it will be filed for safe keeping.
Prior to installation, inspect planks in daylight for visible faults or damage. Check if sub-floor and the site conditions comply with the specifications described in the instructions. If you are not satisfied that they do, then contact your supplier, who will advise you on the best route to take. Do not risk installing your new floor under sub-optimal conditions and rather get the advice of a specialist.
Check the flooring panels before installing
The product has been manufactured according to the highest international standards and has undergone strict quality control, so in the unlikely event of you finding defects in any of the flooring panels, do not install them. Please send them back for a replacement or a full refund.
Check the sub-floor before installing
All sub-floors need to be dry, and clean. Make sure that the area has been swept and is free of all debris. If the area has been wet, make sure it is given sufficient time to dry before the installation.
Wood sub-floors must be dry and well secured. Nailed or screwed every 15cm along joists to avoid squeaking. If not level, sand down high spots and fill low spots with a levelling patch. Make sure that all crawl spaces are open and have proper under floor cross
Concrete subfloors must be fully cured, at least 60 days old, and are recommended to have a painted or 200-micron polyethylene vapour barrier between concrete and floor. Subfloor should be flat and level within 4.7mm per 3.3 meters. If necessary, grind high spots down and level low spots with a levelling compound.
Ceramic tile, resilient tile and sheet vinyl must be well bonded to the subfloor, in good condition, clean and level. Do not sand existing vinyl floors, as they may contain asbestos.
Make sure you have the correct equipment on hand
You will need the following tools and equipment for the successful installation for your vinyl floor: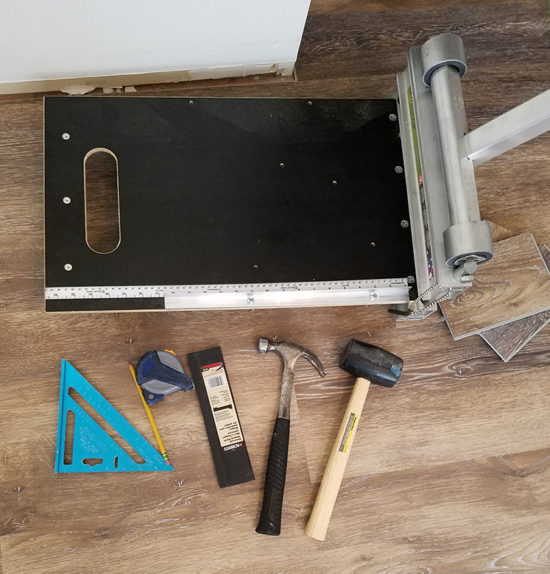 Tape measure
Tapping block (a trimmed piece of flooring)
Pencil
Heel iron / pry bar / pull bar
Chalk line
Crosscut power saw with speed adjustment/flooring guillotine
3M Scotch-Blue™ 2080 tape
Rubber mallet
Do a dry-lay of the floor
Work from several open boxes of flooring and "dry lay" the floor before permanently laying the floor. This will give you a chance to select the best planks from the varying grains and colours and to arrange them in a harmonious pattern.
Begin your installation next to an outside wall. This is usually the straightest and best reference for establishing a straight working line. Establish this line by measuring an equal distance from the wall at both ends and drawing a chalk line.
Read the instructions carefully
Familiarise yourself with the process before starting the job. You may also visit Finfloor's YouTube channel for detailed videos on how to accomplish this task, or alternatively sign-up for one of our free training sessions which are hosted every three months. This session will take you through the step-by-step process of installing your floor correctly. Remember, the incorrect installation of your floor panels with render the warranty null and void.
Finish strong
After all the planks have been installed, remove all the spacers from the perimeter of the room. Install your transitions, reducers and end mouldings. Do not fasten any floor finishing onto the floor as this could lead to warping/bouncing later on. Remember that this is a "floating floor" and should be allowed to expand and contract as a total unit. Pre-drill and install quarter rounds or skirting around the room. Mouldings must be sufficient to cover the 10mm expansion gap. Always fasten these to the wall and not the floor planks.
View the Finfloor Vinyl installation Video here –